Sample
Feast Of Fantasy
Menu
A seven course feast with two hours of the finest entertainment.
Appetizer:
Wedge of Brie Topped with Dried Fruit Compote with Sweet Vermouth
Soup:
Harvest Grain Portabella Mushroom
Salad:
Wedge of Lettuce Topped with Grape Tomatoes, Baton Croutons, Lime and Served with a Creamy Chipotle Caesar Salad Dressing.
Sorbet:
None
Entrees:
Salmon Cake served with a Smetana Sauce and Garnished with Capers
Dessert:
Chocolate Espresso Cake Topped with Brandy Toffee Sauce and White Ganache
*Menu subject to change on chef's whim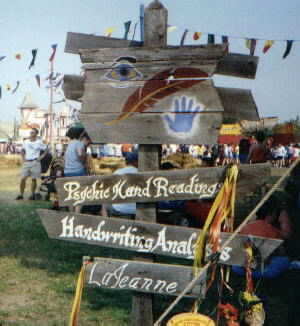 Somewhere not too far from this sign you will find me. located between the Fencing booth and the Pony rides. Near the Climbing Tower and entrance to the Jousting Track.
There are lot's of things to see and do everyday at the
Minnesota Renaissance Festival
. One of my favorite specialty acts to see daily is
The Tortuga Twins
show.Hopefully they will be back again this year. The Fest is a world of it's own. Especially for the people who work there. For some it is just a way to spend the weekend. Have some fun and make some money. For others it is how they make there living. They spend 10 months a year traveling from place to place. Making and selling there wares or performing for tips.